The City of Palms Youth Choir presents "Every Measure Counts"
March 10, 2019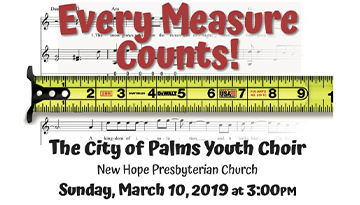 The concert will include works by Schubert, Mozart and Broadway selections... with a twist: "One More Day" from Les Miserables, will be sung only as far as the measures have been sold.
To help the choir sing the final note, please visit their website and make EVERY MEASURE COUNT! Funds raised through the sale of measures will support CPYC's scholarship program. Join us on March 10th!
Return to Community News
Return to Bayshore Village Home Page