Amenities
Sea Aira Estates has many wonderful amenities for you to enjoy:
Heated Pools – Enjoy a refreshing swim any season. Our outdoor pool is heated throughout the winter for your comfort. Participate in enjoyable pool events and activities, or just sink into patio furniture on the expansive pool deck to catch some rays (sunscreen recommended).
Spas – Unwind and relax in one of our soothing and therapeutic spas.
Pets Welcome – We recognize your "family" may include a precious pet. We welcome your four-legged family member! For the protection of all our residents, pets cannot be left outside unattended and some restrictions to breed and size apply.
Clubhouses – Come join in the fun with your friends and neighbors. There is always something going on in one of the two clubhouses. Be sure to check Community News for clubhouse events. Free WiFi is available in the clubhouse and pool areas. Clubhouse can be reserved by residents for special occasions.
Laundry Facilities – A private facility with coin operated equipment is available for your use. The laundry facility is co-located with the clubhouse and pool for enjoyable multi-tasking.
Serving Kitchen – From holiday themed dinners to birthday parties and private functions, our clubhouse serving kitchen allows our residents to make the most of every social event.
Multimedia Room/Area – Sit down with your friends and enjoy a movie night! Our multimedia area is available for you to enjoy. We provide comfortable chairs, cable TV and DVD player. Bring your friends and the Popcorn!!
Billiar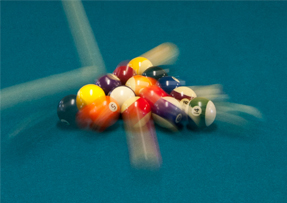 ds – Full size tables and quality equipment are available for your use. Strike up a match with friends or participate in tournament event.
Game Room/Area – Friends, family, and neighbors of all ages can enjoy the challenge of a little friendly competition. We have foosball, snooker, card table, air hockey, video games and ping pong for your enjoyment (game availability subject to change).
Picnic/BBQ Area – A picnic or barbecue is the perfect setting to enjoy time with family and friends. It's also a great way to meet new friends. You'll be right at home on your next picnic with our on-site community picnic/BBQ area.