Your new home is waiting for you at Bayshore Village!
Bayshore Village is a modern, tranquil, gated 55+ community, nestled around two nature preserve areas featuring palm tree lined streets.
Relax around the community pool with your neighbors, enjoy interesting conversations, cement lasting friendships, or participate in one of the many pool activities arranged just for you!
Not in the mood to swim or sunbathe? We have a large Wi-Fi equipped clubhouse, holiday celebrations, dances and many other activities to enjoy. Now is the time to enjoy life. Come make Bayshore Village your home in paradise!
---
NOW TWO WAYS FOR TOUCH-LESS TRANSACTIONS
Stay safe and protect yourself against COVID-19 with these two touch-less ways to pay rent!

Resident Portal
View your account and pay rent without leaving home.
Sign-up today to view and pay your rent online using the Resident Portal. It's simple and easy! Fill out the attached form (click here), and submit it to your Community Office (in person, or via email). Once your Community Manager has received it, they will confirm that they have all the information that is needed for you to access your Resident Portal such as your SSN, and date of birth. (If they don't, they'll give you a call. Once the Community Manager has confirmed all these items, they'll shoot back an email to you with a step-by-step instruction letter which will show you how to log-on to the Resident Portal.
ePay Program
Don't need or want an online account, this option is for you!
The ePay Program gives you the ease of securely paying your lot rental amount and other charges automatically and electronically without the need to set it up through the Online Resident Portal.
Choose to pay your lot rental amount and other charges with these options:
Checking or Savings Account: This option has no fee.
OR
Debit/Credit Card: Our payment partners - Zego (Powered by Paylease) charges a fee of 3.5% plus $2.95 when you choose to pay with your debit or credit card.
To learn more, click here and view the ePay Information and Authorization form. Once you're ready to sign up, simply print, fill out and return the top portion of the form to the Community Office. Don't have access to a printer? No worries, simply give us a call or stop by the office and we'll get an ePay Authorization form to you.
If you have any questions, please call your Community Office today!
---
CUSTOM DESIGN YOUR DREAM HOME TODAY!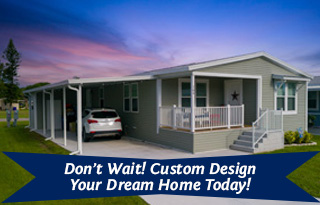 Design the home of your dreams now at Bayshore Village! Why settle for someone else's dream when you can have your own?
Create your vision with one of these manufacturers: Skyline, Jacobson, Palm Harbor, Clayton, Homes of Merit and many others! Call us today at (239) 543-5444 for more information and to get the process started!
---
---
Please note - Activities are subject to change.
---

We came to Bayshore Village from Canada five years ago with the intent to purchase a home in South West Florida Area...
– The community, location, pool and residents greeted us with open arms.
---
Elvis is in the House!

July 22, 2023 Elvis impersonator show at Cape Cabaret Dinner Theater

July 4th Freedom Fest in Downtown Fort Myers

July 4, 2023 Celebrate 4th of July at Freedom Fest in Downtown Fort Meyers
---

Make: 15850 Blue Skies Drive
#337
North Fort Myers, FL 33917
Model: HS
Sq Ft: 1387
Bed/Bath: 2/2
Price: $229,000.00

---

Open concept, beautiful flooring and spacious main bedroom and bathroom! Be the first to live here! Reserve it now, its almost ready!

Make: 15990 Blue Skies Drive
#365
North Fort Myers, FL 33917
Model: Skyline/Champion
Sq Ft: 1456
Bed/Bath: 3/2
Price: $209,000.00

---

Gorgeous Kitchen, center island for gathering and big pantry!

Make: 15839 Sandy Point #181
North Fort Myers, FL 33917
Model: BARR
Sq Ft: 1344
Bed/Bath: 2/2
Price: $127,900.00

---

Fully renovated and fully furnished! Beautiful location!