Enjoy Life and Relax at Gateway!
Join us in our neighborhood; feel right at home among friendly folks, good neighbors, and fun activities. Nestled in a peaceful corner of North East St. Petersburg, Gateway is an ideally located community with almost 40 acres of well-maintained home sites and facilities. Our continually updated and modern park reflects a warm, stable atmosphere that will provide you that "welcome home" feeling.
The heated pool and spa invite you to relax and refresh yourself. Not in the mood to swim? We have a large clubhouse with many activities for your enjoyment.
Now is the time to enjoy life and relax. Come to Gateway and start living!
---
NOW TWO WAYS FOR TOUCH-LESS TRANSACTIONS
Stay safe and protect yourself against COVID-19 with these two touch-less ways to pay rent!
Resident Portal
View your account and pay rent without leaving home.
Sign-up today to view and pay your rent online using the Resident Portal. It's simple and easy! Fill out the attached form (click here), and submit it to your Community Office (in person, or via email). Once your Community Manager has received it, they will confirm that they have all the information that is needed for you to access your Resident Portal such as your SSN, and date of birth. (If they don't, they'll give you a call. Once the Community Manager has confirmed all these items, they'll shoot back an email to you with a step-by-step instruction letter which will show you how to log-on to the Resident Portal.
ePay Program
Don't need or want an online account, this option is for you!
The ePay Program gives you the ease of securely paying your lot rental amount and other charges automatically and electronically without the need to set it up through the Online Resident Portal.
Choose to pay your lot rental amount and other charges with these options:
Checking or Savings Account: This option has no fee.
OR
Debit/Credit Card: Our payment partners - Zego (Powered by Paylease) charges a fee of 3.5% plus $2.95 when you choose to pay with your debit or credit card.
To learn more, click here and view the ePay Information and Authorization form. Once you're ready to sign up, simply print, fill out and return the top portion of the form to the Community Office. Don't have access to a printer? No worries, simply give us a call or stop by the office and we'll get an ePay Authorization form to you.
If you have any questions, please call your Community Office today!
---
Don't forget our $99.00
site rent specials*
*Offer valid on select inventory homes.
CUSTOM DESIGN YOUR DREAM HOME TODAY!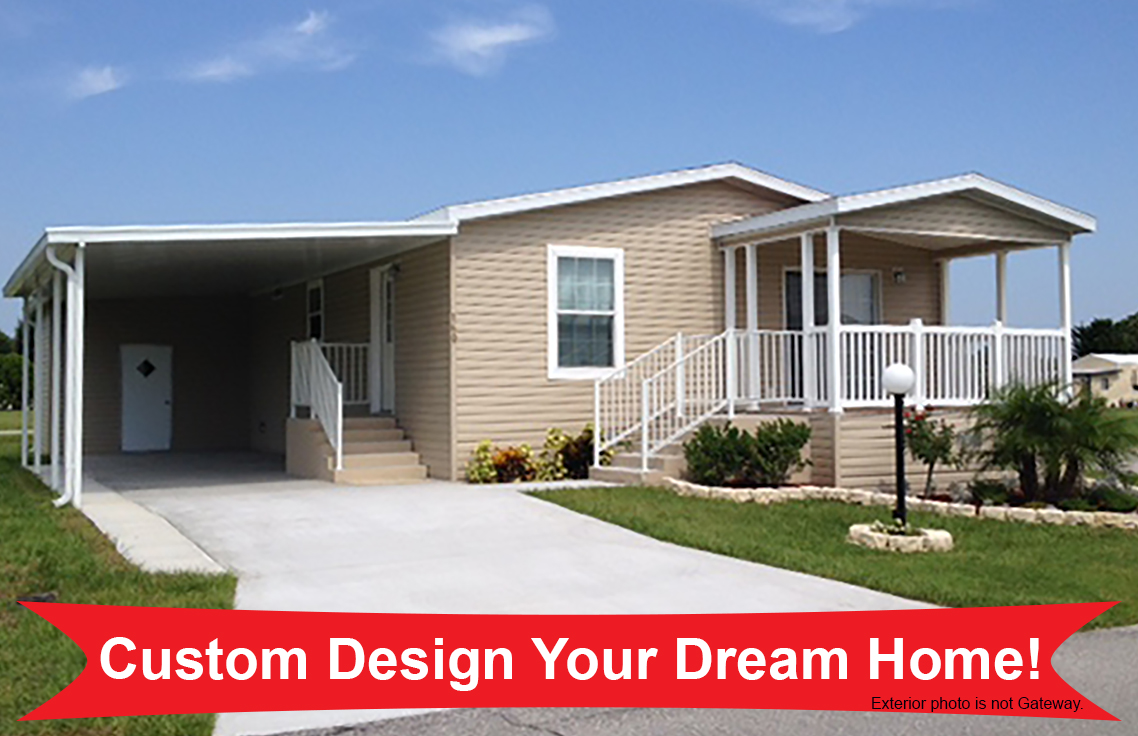 Design the home of your dreams now at Gateway! Why settle for someone else's dream when you can have your own? Design a brand new home for one of the vacant lots in Gateway.
Design your dream home with one of these manufacturers: Skyline, Jacobson, Palm Harbor, Homes of Merit and mary other! Call us today at (727) 576-1287 for more information and to get the process started!
---
---
Please note - Activities are subject to change.
---

"Two years ago my wife and I made the decision to relocate from Michigan to the St. Petersburg area on a permanent basis...
– "We wanted the lifestyle afforded in a manufactured home community."
---
Tampa Bay Automobile Museum

July 2, 2021 Come see unique, historic cars and enjoy a blend of art and science!

Imagine Museum: Contemporary Glass Art

July 2, 2021 For information on one of the top museums in the United States for art created out of glass, click here!
---

Make: 10859 First Lane N.
St. Petersburg, FL 33716
Model: Destiny
Sq Ft: 1248
Bed/Bath: 3/2
Price: 149,900

---

Modern new home with an afforable price! This home is an example of how amazing your new home can look!

Make: 10442 Bay Street N. E. #269
St. Petersburg, FL 33716
Model: VAGA
Sq Ft: 904
Bed/Bath: 2/1.5
Price: $27,500.00

---

Open floor plan, french doors and lots of closet space!

Make: Choose from many manufacturers!
Model: The newest and greatest!
Bed/Bath: Your Choice/Your Choice


---

Custom design your dream home now in Gateway. Why settle for someone else's dream when you can have your own? Design a brand new home for one of the vacant lots in Gateway. Call us today at (727) 576-1287 to see how you can have the home of your dreams in our luxury community! Click here for more details...